Protection for What Matters Most to You
Accidents happen. When they do, it's great to have the peace of mind of knowing you're protected. Our insurance services and experienced agents help protect the people and things you love and depend on the most.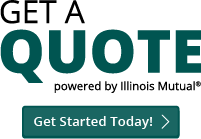 Auto & Home Insurance
You rely on your home and vehicle every day to support you and protect your loved ones. Make sure you protect your home and vehicle as well.
Our carriers: SVEA Mutual Insurance Company, Rockford Mutual Insurance Company; The Travelers; Hastings Mutual Insurance Company; LaPrairie Mutual Insurance Company; Grinnell Mutual; Foremost Insurance; American Modern Insurance Group, Inc.
Crop Insurance
Your crops are your livelihood. We provide the protection you need from financial harm should your crops be damaged or if markets change.
Our carriers: Farmers Mutual Hail Insurance Company of Iowa; Rain and Hail LLC
Commercial Insurance
You pour yourself into your business. Make sure it is protected from risk and financial harm with the right commercial insurance coverage.
Our carriers: Rockford Mutual Insurance Company; Hastings Mutual Insurance Company; Grinnell Mutual; Progressive